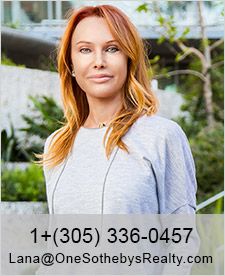 Sotheby's International Realty has decades of experience opening doors to those eager to live in an exceptional home. Built on a network of enduring relationships, and using proven refined tools, our marketing resources and skills bring together sellers and buyers from around the globe.
Lana Bell is a One Sotheby's International Realty estate agent with over 18 years of experience in residential and commercial real estate sales in Florida. Lana is dedicated to taking a proactive approach, using effective campaign strategies to target real estate markets on a global scale. With an established tradition of providing incomparable real estate services, Lana's proven track record is based on a reputation of reliability, integrity, and innovative skills.
Since 2016 Lana is the top real estate agent in Sunny Isles Beach. In 2018 Lana became the top real estate condo sales agent in Miami-Dade county and in 2018 Lana achieved #1 agent in condo sales in Miami-Dade and Broward counties combined, out of 47,792 agents.