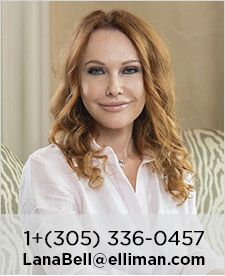 Lana's clients trust in her personal and fair approach, which is further enhanced by the utmost attention to detail. "Working with a client who is either searching for a home or wants to sell a home requires a personal relationship," says Lana. "You want them to feel comfortable from the beginning of their journey to the final closing. My clients are the center of my business and receive an exceptional level of service. I pride myself on diligence, exceptional market knowledge and above all, dedication."
An entrepreneur and skilled sales person from the onset of her career, Lana's first professional venture was with a computer consulting firm in New York City, a position that she started right after college graduation and spent a decade building and escalating. Moving to Florida 26 years ago, Lana found that she had an interest in the real estate industry. And, knew that her ability to effectively communicate coupled with an ease for connecting with clients and discovering their wants and needs, would be a perfect fit for the competitive and fast-moving industry.
Through the years, she has built a stellar reputation among her clients, peers and industry influencers. Lana's commitment to educating her clients earns her trust in the industry and market. This has resulted in her business growing a large clientele. Her professional successes have led to recognition as the number one agent in condo sales in Sunny Isles Beach and as the number one sales agent in Miami-Dade and Broward counties. She brings a wealth of experience and insight to anyone searching to buy, sell or invest in South Florida's luxury homes.
On a personal note, Lana enjoys traveling, spending time with her family, staying fit in mind and body through a regular yoga practice and enjoying Miami's fine restaurants, entertainment venues and South Florida lifestyle. She has made her home in Florida for more than 25 years and calls Sunny Isles Beach home.